There's absolutely no use in sugarcoating this, but I'll be honest…the Broadway Blueshirts are 100% the worst team in the NHL. If you were to ask me in the offseason, if I'd expect to see the Rangers in the Stanley Cup next summer, without a doubt I'd say yes. An Original Six team, The New York Rangers have always been a world-class organization since their inception, attracting and growing top-tier talent. Suddenly, right off the bat, everything we thought and praised about the Rangers came crashing down into a pile of steaming hot garbage. There's been a lot of questions swirling around regarding the most head-scratching and frustrating coaching decisions made by head coach Alain "AV" Vigneault. In almost every single game, including last playoffs, AV has this uncanny tendency electing to depend on washed up players instead of giving his young guns ice time. It just baffles me that AV chooses to put a promising Buchnevich, who's best known for his creativity and silky hands on the 4th line and giving Jimmy Vesey less and less ice time, purely on the basis that he's not making enough big boy plays. Instead, he goes with veteran David Desharnais, who ages faster than a vintage red, and expects the world from him. Now, we're at the point where AV is unsure of himself and the team,  and proceeds to jumble up the lines before every game. The result? Disjointed chemistry up and down the lines, and a 2-6 record, while sitting dead last in the Metropolitan Division.
It also doesn't help the New York Rangers that every team in the Metropolitan Division has gotten substantially better over the offseason. Take for example, the Columbus Blue Jackets signing ex-Blackhawk power forward Artemi Panarin…the list goes on. The result of the New York Rangers offseason wasn't productive at all. Yes, we signed elite defenseman and power-play wizard in Kevin Shattenkirk from the Capitals to be paired with Ryan McDonagh on the first blue-line pairing as originally planned. But thanks to AV's stubborn strategizing, he's been constantly shuffled through the pairings, thus, not being as effective as we had hoped. In addition, trading away fan favorite and assistant captain Derek Stepan this summer, to the Arizona Coyotes has been an absolute bust. It was, in my opinion, the biggest error in personnel management since trading away speedster and two-time Stanley Cup champion Carl Hagelin. In this trade, we acquired young defenseman and power play specialist Tony DeAngelo, and the 7th overall pick in Lias Andersson, expected to contribute right away at center. Flash forward to now, and AV has managed to demote DeAngelo to the minors in Hartford and Andersson to the Swedish Hockey League, in turn, giving less-than-average defensemen like Marc Staal and Nick Holden more ice time. Simply put, the Stepan trade wouldn't look so terrible if the Rangers actually addressed the massive hole it created at center.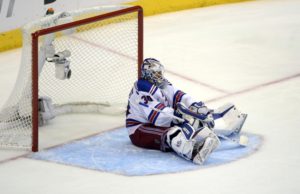 I know it's still early in the season, but something needs to be done in order to elevate this floundering team. If AV isn't willing to change his philosophy of refusing to develop his young players, then get a head coach who will. Right now, we're currently wasting the already-waning talent of Henrik Lundqvist through questionable coaching decisions. I honestly do think Hank is 90% done and it really pains me to realize and accept this harsh reality. He hasn't been the same since falling to the Los Angeles Kings in the 2014 Stanley Cup. To be frank, part of me is asking whether we should tank the rest of the season and hope we get an absolute gamer of a defenseman in Swedish wunderkind Rasmus Dahlin from the Swedish Hockey League, as well as usher in another year closer to bringing Russian goaltender prodigy in Igor Shestyorkin, who's been relentlessly tearing it up in the KHL.
In any case, we've hit rock bottom. And the only way to go is up…and definitely think about finding a new head coach.