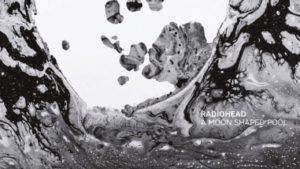 First of all I want to make a point of how risky doing a review for a Radiohead record actually is.  They happen to be an extremely polarizing group with a particularly impassioned fan base so any sort of disagreement with the hive mind can be a bit daunting.  That said, here come a bunch of strong opinions that likely don't sync up with what the most hardcore Radiohead fans think… Okay here we go.
This is my favorite Radiohead album of all time.  I'll give you all a minute to take that in and curse me under your breath stating that "Ok Computer is a masterpiece and Kid A blows this album out of the water… Well now that you have that out of your system allow me to elaborate.  In my mind Radiohead albums are most effectively listened to as full works with a specific goal of changing your state of mind.  I believe that we have seen a trend particularly in the last few records with music as a means to "transport" the listener to another place.  I think it is extremely well done in In Rainbows I think it is pretty effectively accomplished in King of Limbs (though I still like In Rainbows way more) and I believe they completely perfected the process with A Moon Shaped Pool.
The album is a dreamy soundscape with vast spacious tones and etherial movements.  The songs often blend seamlessly into one another and bridge each musical theme together to make one cohesive piece.  I don't know if I've ever found it so easy to get lost in music before I turned on this record.  If you aren't paying attention you would be pretty hard-pressed to tell how many songs were actually on the record given how frequently they connect sonically.   Songs like "Decks Dark" and "Desert Island Disk" are so inseparable I was almost confused as to why they bothered giving them separate track listings as one completely gave way to the next
A Moon Shaped Pool opens up with their first single "Burn The Witch" and really only gets dreamier from there.  The band uses these pulsating tones to create a kind of extra terrestrial feel to the entire record, it never really feels earthly.  I don't want this to be misinterpreted as me saying it is some sort of science fiction concept album because it absolutely is not.  In fact, I don't believe there is one narrative theme that carries through the album.  What I do believe is that Radiohead set out to make a piece of music that takes the listener out of his or herself, I mean the song "Daydreaming" seems like a big hint.
Sure, the album is intense and distant and spacey and makes the listener lose themselves in the sound but are the songs actually good songs?  The answer is, well of course they are.  It seems like Thom Yorke and co. really backed off the weirdness since King Of Limbs and upped the relaxation value.  "Burn The Witch, "Desert Island Disk" and "Identikit" are my personal favorites on the album but again it's tough to say which song is best.  Firstly, cause sometimes you're not always sure if you're still listening to the same track or it changed on you, but also because the quality of each song is so damn impressive.  What Radiohead has created is nothing if not consistent and, credit to them, it is consistently good.
The album closes with a well known and fanatically well loved live piece called "True Love Waits."  There have been fairly mixed reviews over the studio version as, in order to remain in keeping with the rest of the album, the tune became a piano driven ballad that has long drawn out spaces and heavy tone driven melodies.  While the previously unrecorded live version may be a fan favorite, I believe the tinkering they did makes it a perfect closing point to what is ultimately a meditative guide rather than just another record.
So, at the end of the day do I believe that the majority of Radiohead's real intense fanbase will think this record is the best they've ever done?  No almost certainly not, that isn't to say that they won't love it, I just think that albums like Ok Computer and Kid A are so veraciously loved that it's nearly impossible for anything to hold up to them, though In Rainbows did come close. Regardless I firmly believe that this album does something I don't know if any have done so effectively before it.  I think this album is a means of complete mental transportation, it has never been so easy to lose yourself in something before and I applaud the boys for achieving something so special yet again.
Here is the second single released off of A Moon Shaped Pool, "Daydreaming" enjoy.
-Ryan Schmitz