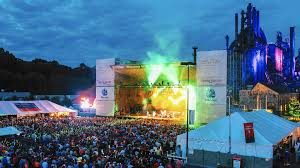 Well folks, summer is rapidly approaching and as such, the music festival circuit is officially up and running.  Coachella kicked us off with some strong performances (highlighted no doubt by my guys Nathaniel Rateliff and the Night Sweats) but some of the lesser known festivals are picking up steam and grabbing some big names.  Musikfest in Bethlehem, PA is a unique and exciting festival filled with ticketed and free artistic performances alike.  While the nonmusical aspects of the festival are no doubt noteworthy, I wanted to talk to you about the daily headliners.
The show kicks off strong with noted "Renegades" the X-Ambassadors.  If you don't get that terrible joke watch a jeep commercial then finish reading this post.  They are the first of ten straight headliners with a new one each day.  The festival brings some musical diversity with an alt band opening up and being followed by Run DMC who needs absolutely zero explanation cause I mean that music is legendary.
Whoever books this festival is phenomenal at their job because they cap it off with one of the best live bands out there, fans of this site probably know where I'm going with this… You got it it is The Avett Brothers.  The best thing to leave North Carolina since… you know what I think that band may be the best thing to ever come out of North Carolina.  The Boys (and gal) will be closing out the ten day festival with what will surely be another unforgettable performance to add to the resume.  With their new album dropping only a month and a half prior to this expect some great new material and some of their patented high energy stage presence.
To get yourself some tickets to Musikfest just click right here.  Remember everyone music festival season is the best time of the year to get up, enjoy the outdoors, meet new people and experience some of today's best music up close and in person.
-Ryan Schmitz