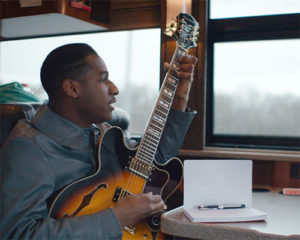 Leon Bridges hasn't been on the scene very long, but everything about him screams classic.  The 26 year old out of Fort Worth, Texas went from washing dishes and playing tiny open mics to a world tour in under a year.  It isn't easy to explain how someone can achieve fame that quickly, so if anyone has any questions just pop on his record and his music will illuminate all that for you.  The undeniably vintage sound to this kid's catalogue and persona has attracted all kinds of attention, even garnering him his own short documentary, This Is Home.
The short film, directed by Danny Clinch the famed music documentarian, covers the end of a leg of Bridges' tour and his return home to the small city of Fort Worth.  In just twenty short minutes we get to see his relationship with his family, history, music, and his town.  We get to meet Lisa Sawyer, Leon's mom and the namesake to one of his songs on the debut album.  We see the restaurant where Leon washed dishes before the day he found out Columbia Records was signing him.  We even got a glimpse of the open mic venue where he first started putting together the band that he now travels the world with.
A story of such humble beginnings and meteoric ascensions is about as inspiring as it gets.  In a country still suffering from racial, social, and economic tensions, all of which are reflected in his music, Leon Bridges rise to fame is a reminder that the American dream still exists, with hard work and talent it doesn't matter where you come from or what you did, you can become something great.  That said, while the fame and excitement are all well and good the most important lesson Bridges teaches us in the film is that there is nothing that matches coming home.
Here is a link to the movie, it's only twenty short minutes and it captures all the beauty and nostalgia that one would expect if they listen to his music.  Give it a watch it is well worth the time.